Justin's My World album went platinum only 3 months after it was released.
Justin gains an average of 207,788 fans on Facebook a week.
When he was 12-years old finished second in a local singing competition called Stratford Idol.
He originally started posting videos so that his friends and family could watch him perform.
His five biggest influences are Craig David, Usher, Ne-yo, Chris Brown and Justin Timberlake.
Justin Bieber gets about 6 hours of sleep each night because of his busy schedule.
While filming "Eenie Meenie" a Bentley was damaged, and it cost $50,000 to fix.
What Do You Mean was the first single released from Purpose on August 28th, 2015. Justin debuted the track at the MTV VMAs on August 30th to a roaring crowd.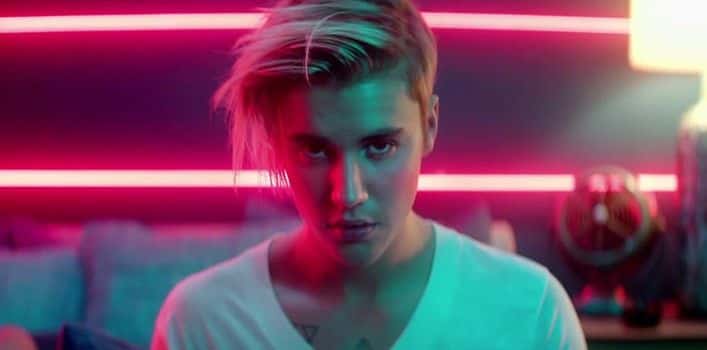 What Do You Mean went on to become a number-one hit in 18 different countries, and netted Bieber his first ever number one single on the Billboard Hot 100 chart in the US and the UK's Official Single Chart.
Justin's follow-up single Sorry was released on October 16th and topped charts in over 10 countries! It was also co-written by Julia Michaels and Justin Tranter, and was produced by Skrillex and Blood Diamond.
In November 2015, Justin Bieber teamed up with J Balvin to create a Latino Remix of his hit single Sorry. The two had performed the song live in late January 2016 when Justin dropped in to surprise fans at Balvin's sold-out LA concert by performing the remix together.
Purpose's third single, Love Yourself, also hit the number-one spot in 9 countries!
In the UK, Love Yourself knocked Justin's Sorry off the top-spot, giving him both the number-one and number-two spots in the singles chart. And all while What Do You Mean was still at number-four giving Bieber three hits in the top five!
Justin 3rd album was 'Under The Mistletoe'.
Justin Bieber's mother wanted to be an actress when she was younger.
Justin once kissed a poster of himself and said "Yup, I'm a great kisser".
Once Justin won the VMA he said to Jaden: "I can't stop smiling", Jaden replied: "When U Smile, I Smile".
Justin gets about 60 new mentions on Twitter per second whether he tweets or not.
It would cost $5000 to $10000 per hour to have Justin Bieber singing at a birthday party.
Justin Bieber joined Snapchat in June 2015 – his Snapchat name is rickthesizzler.
Once Justin got an 'F' in school, but he changed it to a 'B', so he wouldn't get in trouble.
Justin once admitted that he cried because of the haters comments.
Justin Bieber's first tweet was at 8:27 pm on 11th May 2009.
In March 2015 Justin Bieber became the youngest ever person to be roasted at a Comedy Central Roast, which was hosted by Kevin Hart. The roasting panel was made up of Shaquille O'Neal, Martha Stewart, Hannibal Buress, Ludacris and Natasha Leggero.
His favorite a giraffe.
Justin Bieber got a main road named after him, after an 11-year-old girl was major of Forney for a day.
Justin's parents divorced when he was 11 months old.
During a show in Washington, Bieber's personal laptop was stolen, hours later some nude pictures spread on Twitter claiming to be Justin.
Justin appeared in an episode of CSI on 23rd September 2010.
A rumor once circulated that Justin was dead and another one said he committed suicide on 31st July 2011.
Justin didn't want to wash his face after Rihanna kissed him.
On 2nd September 2009, Justin Bieber was a trending topic for the first time and he was thrilled.
Justin first met Usher in a car park.
Justin has been best friends with Ryan since they were 7.
Justin has claustrophobia and he's really afraid of elevators.
Justin says "Never" 69 times in the song Never Say Never.
His favorite color is purple.
Justin got caught smoking cannabis on 5th January 2013, but later apologized for his actions.
Selena Gomez did not want any contact with Justin after the break-up.
His sister's name is Jazmyn Bieber.
Justin purchased his Iron Man helmet at 3 in the morning.
The music video director of Swift's 'You Belong With Me' also directed the 'One Less Lonely Girl' music video.
A contest on which country Justin should tour was rigged by haters, putting North Korea as the lead country.
President Obama revealed that he doesn't have Justin Bieber on his iPod.
Justin got his first tattoo done at the Son of a Gun tattoo parlour in Toronto.
On 30th January 2010, Justin hit 1,000,000 Twitter followers.
Justin drove P-Diddy's white Lamborghini around LA to get some frozen yoghurt with Sean Kingston.
Justin says his favorite underwear is D&G.
While filming the One Less Lonely Girl music video, the puppy in the video peed on Justin.
On his 2016 Purpose World Tour Justin will have not one but two tour buses! In an interview Justin said "I have a studio bus and a workout bus, it's just a big gym." So that's how he stays in shape on the road!
Justin used to take karate classes when he was younger.
Justin's hair dresser is called Vanessa Price.
Purpose was initially banned in various Middle Eastern countries and Indonesia because of the cover art's heavy Christian references, as well as Justin's cross tattoo and praying stance. An alternative cover that featured Justin stood on a cliff looked out over a shore was made for these countries.
When in Germany, Justin practised German by telling a fan "Ich Liebe Dich" (I love you), and she fainted.
If Justin's water bottle has water at the end of concerts, he normally throws it in the crowd.
Justin was teased in school because of his height – he is now 5ft 7 (1.75m).
Justin likes French, English and Australian accents.
The Baby music video is the most watched music video ever on YouTube.
Justin has been claustrophobic since the age of 7.
'That Should Be Me' is a cover. Justin didn't write the song.
Justin says "Smile" 36 times in the song U Smile.
Justin doesn't like clowns.
Justin said if he had to pick a favorite Jonas Brothers song it would be Inseparable.
Justin was signed to Island Records in 2008.
Justin loves the show Friends and grew up watching it because his mother loved it.
Even though Justin's eyes are light brown/hazel, they turn greenish in the sunlight.
His album Believe sold a total of 521,000 digital units in its first week.
Justin's stepmother's name is Erin Bieber.
Justin uses Google Chrome.
Justin can speak French but when asked to sing a French song in an interview, he sang Frère Jacques – the nursery rhyme.
Justin once had a dream that a cat ate him, that's why he doesn't like cats.
Justin used to Skype with fans in summer 2009 during his radio tour.
Justin got really annoyed with the girl in the 'Eenie Meenie' music video, because she couldn't dance.
Two haters bought backstage passes to tell Justin that his parents divorce was his fault.
There are 18 people named Justin Bieber in America.
Jazzy, Justin's little sister calls him 'Boo Boo' when she needs something.